It all started with a single tweet:
KATY SANG THINKING OF YOU IM DEAD DECEASED GOODBYE #WITNESSTHETOUR

— sara rae (@flowerfrantas) September 20, 2017
Within hours, 17-year-old Sara Wisniewski's enthusiastic expression of ultimate admiration for singer Katy Perry and her music had caught the attention of XFINITY, the official sponsor of Perry's 80-date, worldwide concert spectacular "Witness: The Tour."
And we really did surprise her.
On October 12, XFINITY arrived at Sara's home in the suburbs of Philadelphia with limousine transportation to Perry's concert at the Wells Fargo Center, where they had stage-side pit tickets for that very night. The surprises didn't stop there. Sara and her guest, 17-year-old friend Sabrina DelBuono, were also treated to free Katy merch, a pre-show meal in the VIP lounge, a backstage (and under-the-stage) tour of the "Witness" production, and one more epic moment they never saw coming.
Sara and Sabrina met in sixth grade. Now high school seniors, the girls maintained their friendship through shared classes, mutual acquaintances and their undying love for Katy Perry. Both girls discovered their interest in the "California Gurl" with the release of her 2008 breakout single "I Kissed a Girl," and their musical tastes have grown along with Katy's ever-evolving sound.
When Sara was asked to choose one guest to bring along to "Witness: The Tour," the decision was easy. "I know Sabrina loves Katy as much as I do," she said.
But why are they so in love with Miss Perry?
"She's inspiring," Sara said frankly.
"Her personality is amazing," Sabrina explained. "Everything she does is just so great. She's just a great person. I love her so much."
"I love Katy because she's not a typical pop star," Sara added. "She's so down to Earth. She really cares about her fans so much, and she goes out of her way to show her support."
What Sara and Sabrina didn't know at the time was that Katy really had gone out of her way to show just how much she cares about them. After dinner, the backstage tour and merch shopping spree, we lead the girls to their pit "seats" to enjoy the concert—strategically taking them "the back way, to avoid traffic"—but made a quick stop for a special photo shoot backstage at the Wells Fargo Center.
Sara and Sabrina posed in front of the "Witness" tour mouth-and-eyeball logo when the cardboard pupil of the giant eye suddenly disappeared and was replaced by the face of Katy Perry—the real Katy Perry—who popped in to join the snapshot.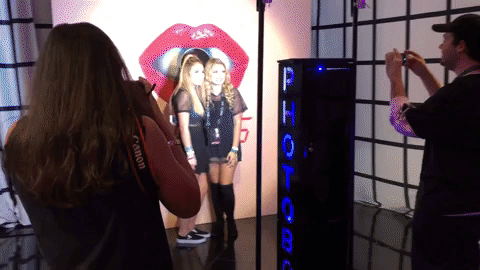 "Wait, make room for me!" Perry chimed in.
Both girls immediately broke down in tears, covering their mouths in shock and exchanging bewildered glances at each other. "Sorry, I just wanted to be in the photo," Katy said through a huge smile. "Are you alright? Should I leave? I'll leave."
"No!" both young fans shouted in unison.
Katy emerged from behind the "Witness" backdrop—decked in the shimmering red costume she wears in the concert's opening act—and introduced herself to the girls. The singer mused over the young ladies' similar names and appearances, asked if they were related and inquired as to how XFINITY had discovered that Sara was a super fan. "Just from tweeting that I love you," Sara giggled. And when Sara told Katy that her mom thought the whole thing was a scam, the star had an idea.
"Well, let's take a video for your mom and tell her," Perry suggested.
"I'm actually shaking right now," Sara said as she handed her phone to Katy.
thank you katy💓 @katyperry #WitnessTour pic.twitter.com/QqBiKVkV6J

— sara rae (@flowerfrantas) October 13, 2017
With the completion of mom's special video greeting—proof that the girls were safe, sound and in the care of their musical idol—Sara, Sabrina and Katy posed for photos. "Fix yourself!" Katy playfully shouted at Sara, who was still wiping runny mascara from her eyelids.
Katy directed her staff to adjust the lights in the room for that perfect selfie—"because we've got looks!" she exclaimed—but told Sabrina not to worry about how she looked because, "You're gonna filter the f**k out of that anyway."
Just beyond the meet-and-greet room, the Wells Fargo crowd had begun to chant Katy's name.
"You guys—love you. I have to go onstage now," Perry told her two young fans.
"I love you so much," Sabrina replied as her eyes filled with tears once again.
The three exchanged hugs and farewells before Katy jogged from the meet-and-greet room towards the brightly lit stage. The opening beats of her title song "Witness" began to thump inside the Wells Fargo Center bowl as Sara and Sabrina bolted to the stage-side pit and took their places for the moment they had been waiting for all night. "Philly! Will you be my witness!?" Katy asked the crowd from her perch atop a shoot star. Sara and Sabrina screamed in response, still crying, still in disbelief and frantically pecking ecstatic messages to friends, family and social media.
And in that moment, it all came to an end the same way it began—with a single tweet from Sara:
the love of my life❤️ @katyperry pic.twitter.com/Ia6PEZXBcL

— sara rae (@flowerfrantas) October 13, 2017
XFINITY is your exclusive destination for "All Things Katy Perry"—just say "Witness Katy Perry" into your X1 voice remote to access the Katy Perry experience for exclusive behind-the-scenes and tour videos, making of featurettes, music videos, essential playlists, news and much more.